Death certification serves both legal and health functions.
A Medical Certificate of Cause of Death (MCCD) is a statutory requirement, it provides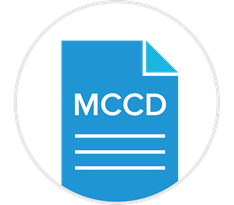 a permanent legal record of the fact of death and enables the family to register the death, make arrangements for the disposal of the body, and settle the deceased's estate. In addition, a MCCD provides a record of causes of death for public health reasons.
Death Certification Education and Learning Resources

 Module 1 Death Certification: Identifying Common Mistakes
This module is intended for doctors who are completing medical certificates of cause of death in Scotland or doctors who have finished a training module on death certification and wish to confirm or improve their understanding of the subject.  

 Module 2 Certification of Deaths in the Community
This module is primarily intended for doctors who are working in general practice in Scotland and may need to deal with sudden or expected deaths in the community.
Note: You will need to register for a free Turas account to access these modules. Your progress will be recorded and will be available to verify your course completion within your NHS Board area. The downloadable completion certificate at the end of the module is available for insertion into your personal learning record. Each module takes approximately 20 minutes to complete.
A Guide to Death Certification Review in Scotland
Healthcare Improvement Scotland's Death Certification Review Service (DCRS) have a digital leaflet providing guidance on death certification review in Scotland - please visit the Healthcare Improvement Scotland DCRS website to access this document (Death Certification Review Service information leaflet).  
Death Certification, the Review Process and Discussions with Families
In this short film (aimed at medical staff in Scotland), Dr George Fernie (Senior Medical Reviewer, Healthcare Improvement Scotland) is seen in conversation with Dr Katherine Ritchie (Scottish Clinical Leadership Fellow) regarding the completion of Medical Certificates of Cause of Death (MCCD), talking about the content of these with families and the MCCD review process. 
A transcript for this video can be found here.
Click on the image to the right to watch the video or here to view it on the NHS Education for Scotland Vimeo channel
Deaths from COVID-19 disease in Scotland: Guidance on accurate death certification & reporting to the Procurator Fiscal
This guidance document from the Death Certification Review Service (DCRS) at Healthcare Improvement Scotland (HIS) provides a guide for certifying doctors in Scotland on how to achieve accurate death certification and reporting to the Procurator Fiscal. It focuses particularly on deaths from COVID-19 disease and uses case studies as illustrative scenarios.
To view the document, click on the image on the right. 
If you have any further questions, please contact DCRS on 0300 123 1898 or his.dcrs@nhs.scot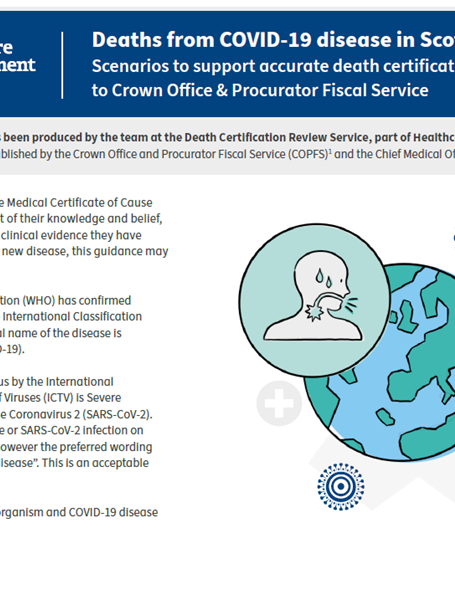 Top Tips for Certifying Doctors
Frequently Asked Questions for Non-Medical Staff
This is a short guide for non-medical staff who might interact with people who are bereaved, around the time of receiving the Medical Certificate of Cause of Death.
Click here or on the link to the right to download this guide.
General points of note
An illegible paper form cannot be accepted by the Registrar for Births, Deaths, and Marriages, and will lead to a postponement in registering death and possible delay of the funeral

All entries must be completed clearly in black ink and BLOCK CAPITALS on the paper form

Timely and accurate completion of MCCDs is of great help to the bereaved families and friends as it reduces undue additional distress at an extremely difficult time

Health Boards should ensure that where a death occurs in hospital the consultant in charge of the patient's care is involved in the completion of the death certificate wherever practicable, and that such involvement is clearly recorded in the patient records.