NEW Bereavement Webinar Series - Book Now
NES began a new monthly webinar series in July 2020, covering various death and bereavement-related topics developed for health and social care professionals. Each webinar will provide an opportunity to hear from a subject expert and also engage in a Q+A, either by submitting questions in advance or during the session itself.
Links to sign up to each webinar will be added to this page on an ongoing basis.
Webinar sessions will be free to attend and won't be recorded.
WEBINAR DATES for 2020
Mon 10th August (12:30-13:30) - Grieving as well as possible during a pandemic crisis - two webinars on bereavement, loss and grief in the context of COVID-19
Victoria Thomson, Principal Educator - Psychology, NHS Education for Scotland
Please note: This webinar is part 2 of a 2 part series. The booking link includes registration for both webinars but you can still register for part 2 without having attended part 1.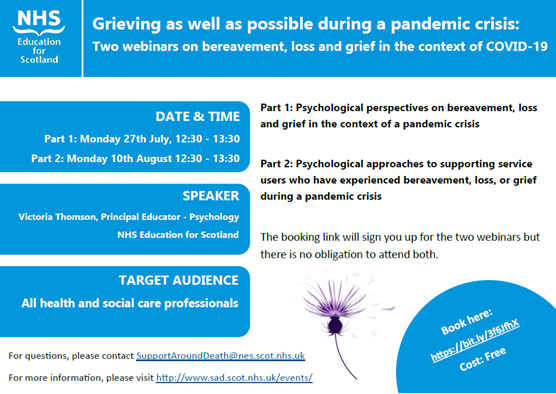 Part 2: Psychological approaches to supporting service users who have experienced bereavement, loss, or grief during a pandemic crisis - Mon 10th August (12:30-13:30)
This webinar will cover how grief may affect people in the context of COVID-19, including anticipatory, communal, prolonged and/or complex grief. It will review approaches to support people, the role of psychological first aid, and impact of bereavement on staff mental health and wellbeing.
Tues 18th August (12:30-13:30) - Death Certification in the time of COVID
Dr Ruth Stephenson, Deputy Senior Medical Reviewer, Healthcare Improvement Scotland (DCRS)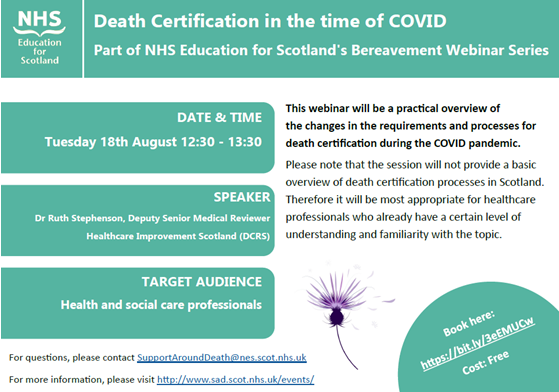 This webinar will be a practical overview of the changes in the requirements and processes for death certification during the COVID pandemic. Please note that the session will not provide a basic overview of death certification processes in Scotland. Therefore it will be most appropriate for healthcare professionals who already have a certain level of understanding and familiarity with the topic.
Tues 15th September (17:00-18:00) - Managing bereavement in the workplace 
Andy Gillies, Bereavement & Spiritual Care Lead, NHS Golden Jubilee & Victoria Thomson, Principal Educator - Psychology, NHS Education for Scotland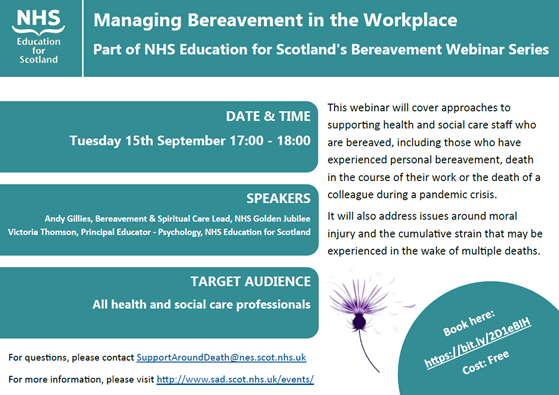 This webinar will cover approaches to supporting staff members who are bereaved, including those who have experienced a personal bereavement, death in the course of their work or the death of a colleague during a pandemic crisis. It will also address issues around moral injury and the cumulative strain that may be experienced in the wake of multiple deaths.
Tues 6th October (12:30-13:30) - Supporting children who are bereaved during and after the COVID-19 pandemic
Donna Hastings, Family Support Worker, St Columba's Hospice
This webinar will cover how children and young people who are bereaved have been impacted by COVID-19, specifically addressing changes and lessons learnt from the pandemic. It will review the impact of having been bereaved during the pandemic and the effect of e.g. visiting and funeral restrictions. Additionally, it will discuss how children who are bereaved may be dealing with the current situation and specific ways to support them.
November (date tbc) - Dealing with bereavement as a health and social care worker in remote and rural communities
Speaker tbc
Link to register coming soon
Tues 8th December (12:30-13:30) - Bereavement following substance use
Martha Rae, Senior Virtual Family Support Practitioner, Scottish Families Affected by Alcohol & Drugs
This webinar will cover the additional challenges that someone who is bereaved may face when substance use is involved and how to support someone who is bereaved as a result of substance use.
Bereavement Education Conference
Following the success of the inaugural NHS Education for Scotland (NES) Bereavement Conference on 11th November 2019, the NES Bereavement team will be running a conference next year.
The date for this conference has recently changed and it will now be held on Wednesday 24th February 2021 at the Royal College of Physicians, Edinburgh. More details will follow.
As a health or social care professional, to be kept up to date with details of future conferences, you may wish to sign up to our quarterly e-newsletter.
If you would like to see film clips or read some of the presentations that were delivered, please click on the navigation bar to visit the 2019 Conference page, where these will soon be added.