Bereavement Webinar Series
NHS Education for Scotland (NES) began a webinar series in 2020, covering various bereavement-related topics for health and social care professionals. Sessions provide an opportunity to hear from a subject expert(s) and also engage in a Q+A. Over 1600 people have registered for sessions to date with positive feedback having been received.
"Excellent presentations and very topical…"
"Well paced, relevant, credible, thank you…"
"Very informative webinar"
Upcoming webinars:
Additional dates and session information are continually updated on this page as they are confirmed.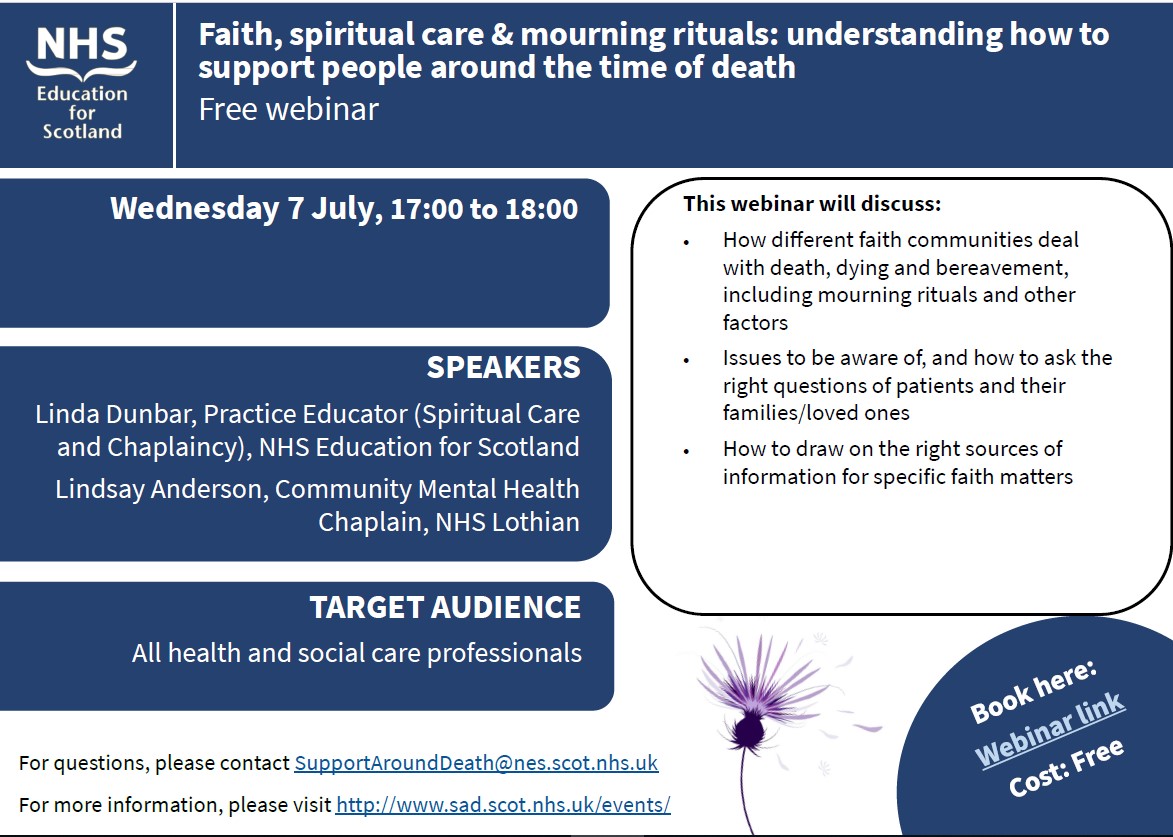 Faith, spiritual care & mourning rituals: understanding how to support people around the time of death
Wednesday 7th July 2021, 17:00-18:00
Linda Dunbar, Practice Educator (Spiritual Care and Chaplaincy), NHS Education for Scotland, and Lindsay Anderson, Community Mental Health Chaplain, NHS Lothian
This webinar will provide an overview of how different faith communities deal with death, dying and bereavement, including mourning rituals and other factors, and how best we can meet the needs of all groups. It will guide attendees on what to be aware of and how to deal with potential issues, such as how to ask the right questions of patients and their families, and how to draw on the right sources of information for specific faith matters.
This webinar is suitable for a general health and social care professional audience. Confirmation of whether the presentation / Q+A section of the webinar will be recorded will be announced at the start of the session.
NES Bereavement Annual Conference
Wednesday 24th November 2021
'The Changing Face of Bereavement: Providing care and maintaining our own wellbeing during the pandemic'
We're pleased to confirm that NHS Education for Scotland's second bereavement conference will now be going ahead in Autumn 2021
When: Wednesday 24th November 2021
Where: Full day, virtual event
Who: For health & social care professionals
Cost: Free
Programme information coming soon
Ahead of registration opening health and social care professionals can express interest in attending, by contacting the NES Events team at events@nes.scot.nhs.uk if they would like to be notified by email when booking opens.
If you would like to view speaker film clips and information from the inaugural NES Bereavement conference please visit the 2019 Conference page
As a health or social care professional you may wish to sign up to our quarterly e-newsletter to be kept up to date with details of future webinars and other learning events.