New Community Initiative Launched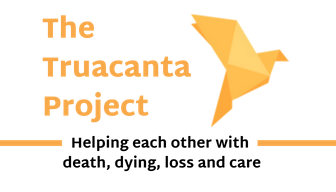 The Truacanta Project
Helping each other with death, dying, loss and care
The Truacanta Project is a new initiative that will work with communities to develop projects around improving people's experiences of deteriorating health, death, dying and bereavement. 
After an initial application process, up to four communities from across Scotland will receive dedicated community development advice and support for two years. 
The project is being run by the Scottish Partnership for Palliative Care and funded by Macmillan Cancer Support. 
Expressions of interest in being part of the project are currently being sought, with a closing date until 15 June. More information about the project and how to get involved is available here: The Truacanta Project