NES Bereavement Education Conference 2019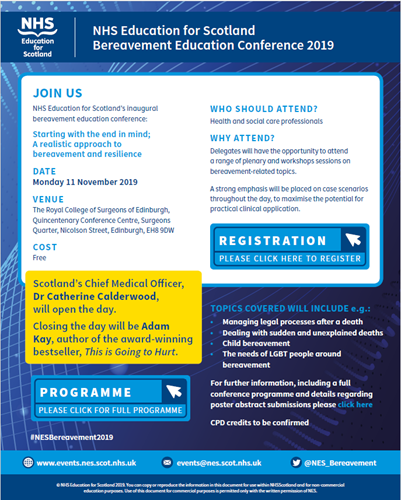 The NES Bereavement workstream are pleased to announce that registration is now open for our inaugural Bereavement Education Conference, taking place Monday 11th November in the Royal College of Surgeons of Edinburgh. The conference will feature presentations from a variety of expert speakers, a closing plenary from comedian and former doctor Adam Kay, and a number of topical workshops for delegates to choose from.
We encourage health and social care staff with an interest in bereavement care to visit the Conference website for more information on the event, and to register their interest in attending. Please note places will be allocated after the close of registration to ensure fair distribution. Contact events@nes.scot.nhs.uk for any questions on this event.