Death on the Fringe is a series of shows and events looking at death and dying which takes place during the Edinburgh Festival Fringe each year.
It is part of the charity-led campaign, Good Life, Good Death, Good Grief, which works to promote more open and supportive attitudes and behaviours relating to death, dying and bereavement in Scotland.
People's experiences of death and grief are personal and wide-ranging - Death on the Fringe embraces artistic endeavours which promote exploration and discussion of these subjects, neither endorsing nor censoring the views put forward within performances.
Death on the Fringe 2017 will take place in Edinburgh from 4-24 August 2017.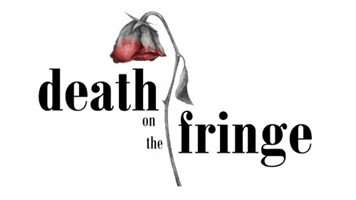 Programme 2017
Pushing Up The Daisies Presents… Is This It?
Margot arms up With Poet and Storyteller, Margot Henderson
A one-woman show that looks death in the face and tells it like it is, straight from the corpse's mouth.  A warm wry take on the journey from cradle to grave, through love and loss and all that death brings in its wake. This piece brings us up close and personal and asks some of the big questions:
How do we deal with death when it comes to the door? What binds us together, what tears us apart?
Rebel Rebel – how Bowie shone a spotlight on palliative and end of life care
A lecture by Mark Taubert, Clinical Director and Consultant Physician in Palliative Medicine at Velindre NHS Trust, Cardiff.
Dr Mark Taubert will talk about life in his various NHS and hospice work settings after David Bowie's death and how numerous conversations cascaded off into something much larger; including an unwanted visit from the Daily Mail. Some of these conversations about dying still feel like taboos in 21st century medicine, where defying death still seems to be a primary objective amongst many doctors, nurses, patients and their loved-ones. Mark will share anecdotes and stories from work in a hospice and the wider NHS.
Doctors, dying and death since the nineteenth century
David ClarkProf David Clark in conversation with Mark Hazelwood.
In this session sociologist and writer Professor David Clark can be found in conversation with Mark Hazelwood, Chief Executive of the Scottish Partnership for Palliative Care.  They will discuss David's new book on the history of palliative medicine – To Comfort Always (Oxford University Press 2016). Come along for an insightful and at times wry look at one of the great challenges facing medicine today.
Death on the Fringe Showcase
A night of death-themed performances to kick off the Edinburgh Festival Fringe. Featuring music, theatre, comedy, dance and storytelling, the evening will show case excerpts from a range of Fringe shows that explore themes of death, dying and bereavement.  All of this, set to the backdrop of Edinburgh University's historic Anatomy Lecture Theatre.
You can view full programme details and ticket booking information here: Death on the Fringe 2017 Programme
Follow @DeathOnFringe on twitter to keep up to date with the latest news.