Bereavement Education Conference 2022
'Exploring bereavement from a new perspective'
Registration is NOW OPEN!
The third annual virtual NES Bereavement Education Conference will be held on Thursday 24th November 2022, aimed at health and social care professionals.
To register your place please click here.
For further information about the conference including the programme and details about poster abstract submission, please visit the NES Events website here or click on the flyer on the right-hand side.
You can also keep up to date at #NESBereavement2022
Bereavement Conference: Poster Abstract Submissions 
We welcome submissions of posters covering any aspect of innovation and creativity leading to improved outcomes for those who are bereaved. These may include aspects of education, service delivery and quality improvement relevant across a wide spectrum of bereavement related situations. We are also happy to accept work that has already been presented at other events.
Please click here to complete the submission form and send it to: events@nes.scot.nhs.uk
Key dates:
Deadline for submission: Extended to Monday 10 October 12 Noon
Successful abstracts announced: Monday 17 October
For more information about the day, please visit the 2022 Conference webpage. 
Bereavement Webinar Series - Upcoming sessions
'Supporting those who experience the death of a child'
Webinar rescheduled for Monday 7th Nov at 5pm 
Speakers: Yvonne Caie, Bereavement Nurse Specialist, NHS Fife and Gordon Strang, Healthcare Chaplain, NHS Fife
This webinar will cover:-
- A discussion about the impact the death of a child has on a family.
 - How to build confidence and skills in communicating with, and supporting, families who are bereaved of a child.
 - How to consider ways to support yourself and your colleagues.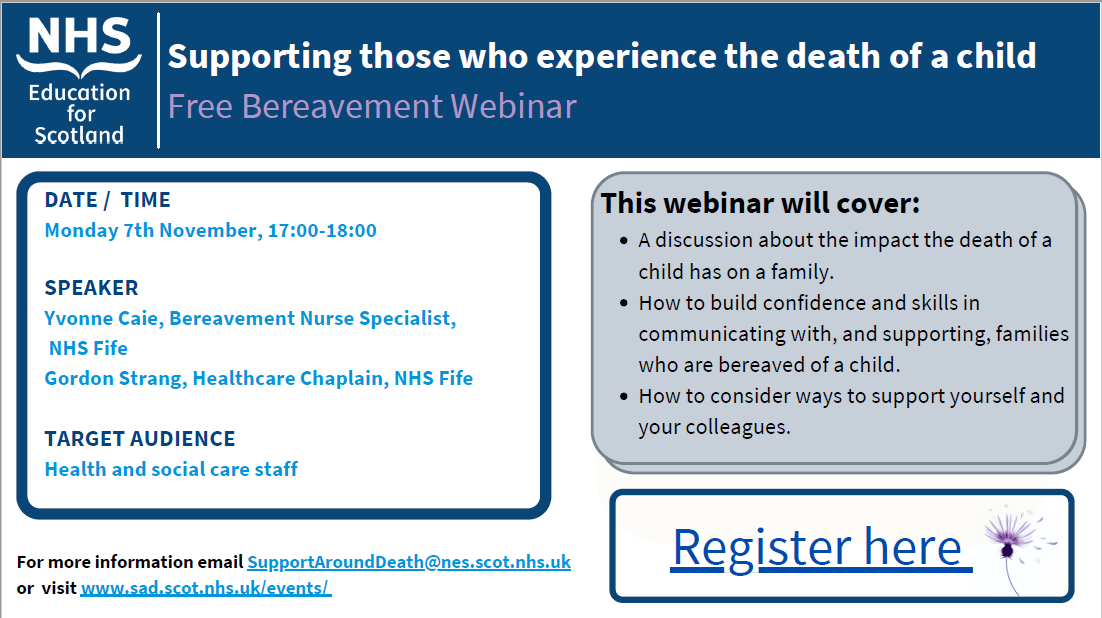 For recordings and slides from previous bereavement webinars, please visit our Previous Webinars page.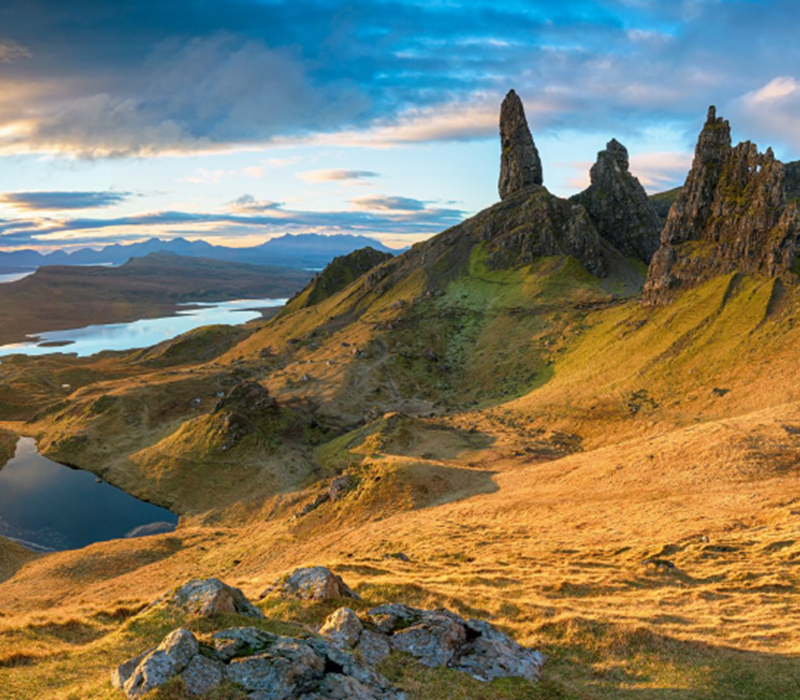 The Remote and Rural Scottish Centre of Excellence Festival of Learning 
POSTPONED
Due to the national period of mourning, the Scottish Centre of Excellence Festival of Learning due to take place from 19th to 30th September 2022 has been cancelled and will be rescheduled.
It will be a blend of in-person training and technology enhanced learning.
Dr Graham Whyte, Associate Postgraduate Dean for Grief & Bereavement at NHS Education for Scotland/Consultant in Palliative Medicine at Marie Curie Hospice, Glasgow, will deliver the following session on bereavement education at the Festival:
Because Grief Matters – Recognising the need for Education around Death and Bereavement
This session will explore why bereavement education matters including some discussion about the research evidence for this and outlining of the work the NHS Education for Scotland Grief and Bereavement team has been doing to enhance the preparedness of health and social care staff across Scotland to provide good bereavement care.
This will be available on 2 dates: 
Wednesday 21st September 10:00-12:00 (face-to-face session in Portree) - cancelled pending reschedule
Thursday 29th September 14:30-15:30 (virtual webinar) - cancelled pending reschedule
To find out more about the event including registration, please click here. For any enquiries about the event, please email events@nes.scot.nhs.uk