Court proceedings may follow a death in a variety of circumstances.
Medical personnel, particularly hospital medical staff, who were involved in the treatment of a patient whose death becomes the subject of criminal or Fatal Accident Inquiry (FAI) proceedings, may need to be called as witnesses in a criminal trial or an FAI at court.
A guide for NHS staff which explains the process, outlines what happens in court and provides advice on how staff can prepare and debrief has been produced by NHS Education for Scotland. However, in view of the new legislation governing FAIs (the Inquiries into Fatal Accidents and Sudden Deaths etc. (Scotland) Act 2016), this is being updated. For more information email SupportAroundDeath@nes.scot.nhs.uk or check back soon.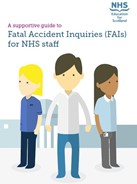 Click below for more information on: