Dealing with bereavement in the workplace
Many of us working in health and social care will come across situations at work where staff members are bereaved or perhaps experience the death of a colleague. Knowing what to say and do in these situations to provide support to employees and co-workers can be challenging and naturally people may feel apprehensive.
Resources have been designed to help managers identify some responses and actions to support bereaved employees, colleagues, teams and themselves in the workplace. 
Click here to view the dealing with bereavement in the workplace page and these resources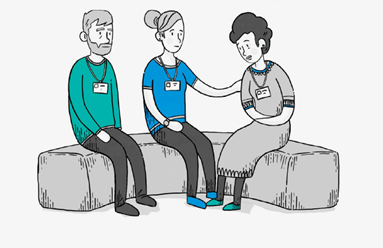 Coping with death and bereavement as a health and social care professional
This film introduces the acronym 'TALK'
which was designed to help health and social care professionals cope with death and bereavement. It encourages staff to support each other with simple strategies such as talking to your colleagues, asking how your team are doing, listening to one another and showing kindness to yourself and others.
A transcript for this video can be found here.
A downloadable leaflet which accompanies the video can be found here or by clicking on the image to the right.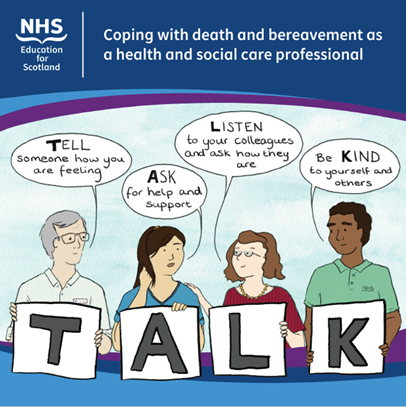 Psychological First Aid
This Psychological First Aid animation has been produced in partnership between NHS Education for Scotland and West Dunbartonshire HSCP.
It was designed to support anyone who is delivering health or social care to deliver effective Psychological First Aid (PFA) throughout the COVID-19 pandemic. PFA is a humane, supportive and flexible response to people who are in distress or suffering during and after crises or emergencies.
In addition to this animation, a new Psychological First Aid module has been launched on Turas Learn.
Click here or on the image to the right to watch this animation
Working in a Crisis: Daily Psychological Protection 
It can be difficult to prioritise our own wellbeing in an ongoing crisis when we're busy looking after others. Here are some key evidence based tips to protect your own psychological wellbeing and help you continue to look after others safely & effectively.
Click here to access further psychosocial mental health and wellbeing support for staff throughout the COVID-19 pandemic on Turas Learn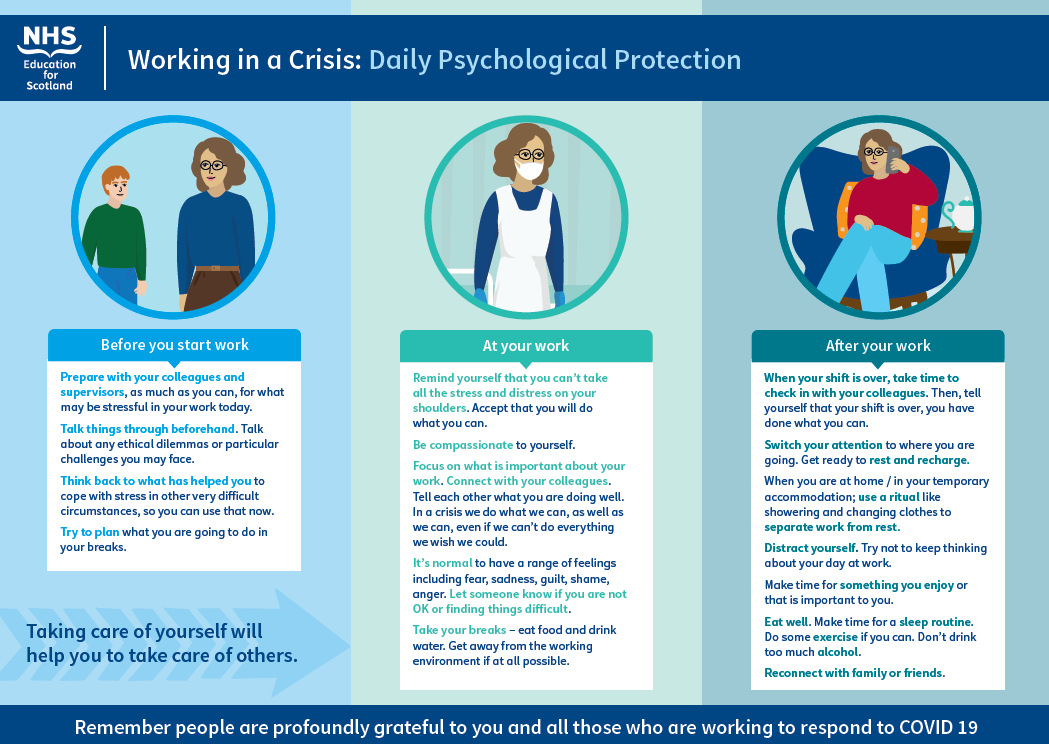 Stress, Coping and Resilence: Advice for Health and Care Professionals
This NES video by Dr Caroline Cochrane offers a brief guide for healthcare staff concerning stress, coping and resilience in the context of the COVID-19 pandemic.