Click here to read common questions and answers on Death Certification arrangements in Scotland on Healthcare Improvement Scotland's website. More information and educational resources on death certification and the review process (not related to COVID-19) are also available on this website. And you can click here to read the Scottish Government's Funeral Industry News blog for the latest COVID-19 updates.
Guidance for completing COVID-19 related Medical Certificates of Cause of Death
The Death Certification Review Service (DCRS) have produced new guidance for doctors completing Medical Certificates of Cause of Death (MCCDs) for confirmed or suspected cases of COVID-19 in Scotland.
If you have any further questions, please contact DCRS on 0800 123 1898 or dcrs@nhs24.scot.nhs.uk
For more information click here to read a joint letter 'Updated Guidance to Medical Practitioners for Death Certification during the COVID-19 Pandemic' from the Chief Medical Officer, Registrar General for Scotland and Keeper of the Records of Scotland, Crown Agent and Chief Executive of Crown Office and Procurator Fiscal Service and Police Scotland.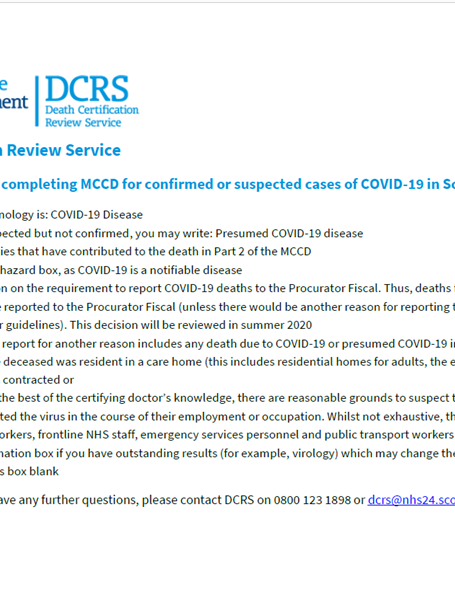 Guidance for Medical Practitioners during the COVID-19 Pandemic – Electronic Transfer of Medical Certificates of Cause of Death from Health Services to Registrars and Next of Kin
The Scottish Government have published guidance on electronic transfer of MCCDs, featuring instructions and flowcharts for processes as they relate to:
Primary Care (Annex A, pages 2-3)
Secondary Care & Primary Care Out of Hours Services (Annex B, pages 4-6)
Hospices (Annex C, pages 7-8)
Click here or on the image to the right to view the full document.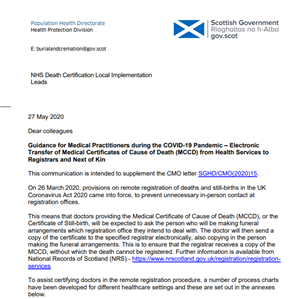 Provision of the Medical Certificate of Cause of Death (MCCD) to Registrars 7 days a week, during the COVID-19 pandemic
The Scottish Government has published a letter to request that all certifying doctors should provide the MCCD as soon as possible after confirmation of death. Colleagues in hospitals and hospices should also aim to provide a signed and scanned copy of the MCCD electronically to the Registrar seven days a week.

This is to monitor the impact of the measures being undertaken to mitigate the effect and duration of the pandemic, and to provide additional registration capacity to respond effectively to potentially increased numbers of deaths.
Click here or on the image to the right to read the full letter.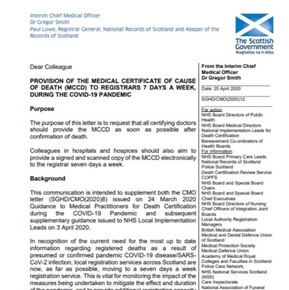 Webinar on Death Certification in the time of COVID 
Dr Ruth Stephenson, Deputy Senior Medical Reviewer, Healthcare Improvement Scotland (DCRS)
This webinar took place on 18th August 2020 and was a practical overview of the changes in the requirements and processes for death certification during the COVID pandemic. 
Registering a death in Scotland
Information and updates on the registration of death in Scotland, and how the process has changed in view of COVID-19 e.g. including remote registrations, can be found on the National Records of Scotland website
Click here for a leaflet on guidance for registering a death during the COVID-19 pandemic
Click here
 

and scroll down for links to other sources of information & education for health and social care staff and information for those who are bereaved