Scottish Bereavement Charter launches
After eighteen months of development including consultation and engagement with individuals and groups from across Scotland, on Wednesday 15th April 2020 Scotland's first Bereavement Charter for Children and Adults was launched.
This Charter, together with Guidance notes, has been developed by a coalition of individuals and organisations, of which NHS Education for Scotland has been a part.
It contains 13 statements which describe what the best bereavement care and support should look like. It has been developed to support individuals and communities who struggle with the death of someone they know or someone in their community.
Follow news and discussion on the Charter on Twitter via the hashtag #becausegriefmatters
The development of the Bereavement Charter
This short film establishes the contextual background, rationale and intended outcomes for the development and implementation of a human rights based Bereavement Charter for Scotland.
A transcript for this video can be found here.
To access the Charter, FAQ & Guidance Note

 

click here or on the documents below:
Click 
here
 

to read the

 FAQ document

for

 

Scotland's first Bereavement Charter for Children and Adults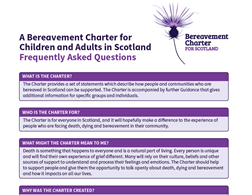 Logos of organisations who were involved with the Charter's creation

Bereavement Charter Mark
The Bereavement Charter Mark is available for use by organisations that wish to indicate their adoption of the principles of the Bereavement Charter for Adults and Children in Scotland.
The Mark is offered in the sizes Small (100px), Medium (500px), and Large (1000px) in PNG image format, at the links below.
Bereavement Charter mark - Small (100px)
Bereavement Charter mark - Medium (500px)
Bereavement Charter mark - Large (1000px)
Please can all organisations wishing to make use of the Charter Mark image(s) email us at SupportAroundDeath@nes.scot.nhs.uk to confirm – this is to help us track how widely it is being used. We're also available for any queries on its use.
Additionally, if you require a different format (for instance to incorporate the Mark in professional design or printing), please email us at the address above and we can provide additional formats.